Church Summer Picnic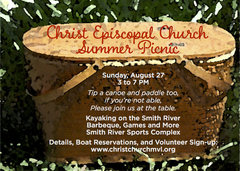 The Christ Episcopal Church Summer Picnic will be held at the Smith River Sports Complex on August 27 from 3 to 7 PM. You may opt to float down the river, or simply come enjoy a summertime meal. If you plan to canoe or kayak, meet by the river at the Sports Complex at 2:30 PM (signs will direct you to the parking area). Those who wish, will kayak from the put in area near KFC to the complex (about a 2- 2 ½ hour float). Shuttle service will be provided between the Sports Complex and the put in.
If you are coming to picnic, enjoy games, socialize, hike the paw path etc., arrive at the Sports Complex between 4:30 and 5:00 PM.
A delicious dinner will be served at 6:00 PM. Bring lawn chairs, sunscreen, and bug spray. The event will be catered by Pigs-R-Us including barbequed pork and chicken, baked beans, coleslaw, rolls, lemonade and water. Please bring your choice of beverage, if it is different. The dinner cost is payable at the church office in person, by mail, or by dropping it into the offering plate. Please write "PICNIC" in the memo line. The cost is:
$10 per Adult
$5 per Child (12 years old & under)
Children Under 5 Eat Free
Canoes and kayaks may be rented through Brian Williams. Please contact him at 276-634-2545 or 276-618-1457 to discuss what he has available for your specific needs and to make the rental payment. There are a limited number of rental boats and they will be offered on a first come, first served basis. The cost is:
Canoe Rental: $40
Single Kayak Rental: $30
Tandem Kayak Rental: $40
The sign-up sheet for picnicking or floating, desserts and tents is on-line, go to the Volunteer link on our website, www.christchurchmvl.org. In the case of rain, the float down the river will be cancelled and the picnic will be held at the home of Karen and David Jones on Stonewall Jackson Trail. We will gather at 5:00 PM and serve dinner at 6:00 PM.