Vacation Bible School 2021 Compassion Camp, Part 2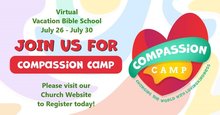 Christ Episcopal Church is teaming up with churches from Eden, North Carolina - Epiphany Episcopal, Leaksville + Spray UMC, have again partnered with Martinsville, VA Churches - Christ Episcopal, Holy Trinity Lutheran, First + Forest Hills Presbyterian to bring you our Virtual at-home Vacation Bible School program this Summer. to bring you Vacation Bible School, Compassion Camp - The Sequel - Changing The World With Loving Kindness.
The dates for this FREE program are July 26 through July 30 for preschoolers through rising 6th graders Be a part of the fun with creative lessons, crafts, catchy upbeat music, snacks and more.
You may access the registration form below or on-line by clicking here.
Volunteers are needed for all aspects of the program and to register your child(ren), contact:
Sam Smith at sam@peakspresbytery.org or
Deb Norton at dnorto02@leeu.edu