"Come unto me, all ye that travail and are heavy laden, and I will refresh you." -- Matthew 11:28
Thank you for visiting Christ Church! While no website can fully convey the true spirit of a church, we hope that by exploring this site you can gain a better view into our Christian community. Please consider this to be an invitation to you to come worship with us and share our fellowship joyfully praising Christ in a caring and compassionate family of Christians.
2019 Stewardship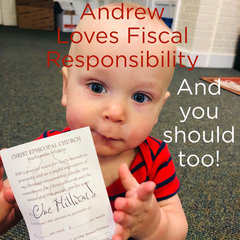 The highlight of Baby Andrew's day was filling out his pledge card! He loves the fact that he can give his Church an idea of how much he plans on giving in the next year, so they can make budgets and do other really boring and really important things. Bring your pledge cards to Church, so you can help with Church fiscal responsibility as well!