Refreshed Programs for Youth!
Youth Group
The Youth Group will meet at 3:30 each Sunday. This program is for those in 6th grade through high school.
Children's Meeting
The children will meet in the Parish House at 3:00P on the last Sunday of each month.
Adult Sunday School
Following two and a half years of study, the Adult Sunday School class is ready to move on from the Gospel of Mark to the Book of Revelation to John. The class meets each Sunday morning at 9:30 in the Parish House Library. One pericope is read, reviewed, and discussed under the leadership of Fr. Nick Hull. All are welcome to attend.
John's visions reveal that
Jesus has overcome evil by
his death and resurrection,
and will return one day as the
true king of the world.
The book of Revelation was written to seven churches as both encouragement and challenge. An apocalyptic letter, it relies on visions, symbols, and Old Testament references to reveal the ultimate fulfillment of God's promise given to Abraham in Genesis. The book is not a secret code that allows believers to decipher the timeline of Jesus's return.

Instead, it shows that every human kingdom eventually becomes Babylon and must be resisted. Jesus, the slain Lamb who died for the sins of the world, will return one day as King with His followers to prompt repentance. He will remove evil permanently and make all things anew.

That promise motivates every generation of God's people to remain faithful in the midst of persecution until their King returns.
Episcopal 101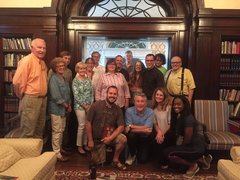 We are going to try something again this year that I am excited about!
A lwhile ago we offered a class called Episcopal 101 that served a trifold purpose. First, it is meant as an inquirers class that would satisfy any curiosity someone might have about the Episcopal Church. Second, It can serve to prepare someone for confirmation if the candidate attends every class and reads a short text on their own. Third, it can also serve as an opportunity to freshen up your episco-skills if you are a longtime Episcopalian, but are a bit rusty on the difference between a cassock and a chasuble. I thought our first round was a lot of fun, and we had tremendous participation. I hope you consider joining us this year, and please feel free to pick and choose what classes you would like to attend as each one is independent.
Episcopal 101 will be roughly following the book Your Faith Your Life: An Invitation to the Episcopal Church, and there will be a total of six classes. The class may appeal to you for a variety of reasons, and it will be open to anyone regardless of their membership status or the reason they would like to attend. One purpose of this class is to prepare people for confirmation or reception to the Episcopal Church. If you are serious about exploring a commitment to the Episcopal Church this is the perfect place to start. I will even give you a copy of the book to show that we are invested in your spiritual discernment in this Church. If you are curious about the Episcopal Church and are not sure if you want to make a commitment then this class is for you too. Though confirmation is an option it is by no means expected if you are not ready for that jump. If you are a life-long Episcopalian and want to touch up on your Church History, Liturgy or Church polity then this class is for you too. You are welcome to come to every class or pick a couple that interest you. However, if you are planning to be confirmed we ask that you plan on attending all of the classes. The books are available in the Church Office at no cost if you are seeking confirmation or for fifteen dollars ($15) if you have already been confirmed.
Also, just a small note of preparing for the class. Don't. Let's dive into these subjects together with a blank slate. Once we cover the basics in the class I highly encourage you to read the corresponding chapters after class. After you read you may have questions on material in the book that we did not cover in class, which we can address in the beginning of the following class.

I am looking forward diving into this material with you!

Blessings,
Fr. Nick
The first Episcopal 101 class was held in the Spring of 2017. Many people attended , they valued the shared information and discussion. A subsequent class was held in Fall 2018.
Confirmation Class
Confirmation is when the Church prepares and welcomes new members into the Episcopal Church. Although, everyone is welcome to fully participate in worship and the life of the Church, members are able to run for vestry (our governing board), and vote in vestry elections. The Bishop of the Diocese of Southwest Virginia comes to our parish every 18 months to confirm new members, and confirmation classes are offered in the months prior to the Bishop's visit.