Vacation Bible School 2018 - June 25 - 29
Christ Episcopal Church will be joining forces with First Presbyterian Church to offer Vacation Bible School to children. Volunteers are needed to make the program a success. The theme this year is "Shipwrecked - Rescued by Jesus". It will be held June 25 - 29 at First Presbyterian. Each evening will begin with a meal at 5:30P followed by programming lastinguntil 8:30P. Venture onto an uncharted island where kids are rescued by Jesus! Anchor kids in the truth that Jesus carries them through every storm in life. They'll learn to hold onto God's promises when they are lonely, they worry, they struggle, do wrong, and feel powerless.
Complete the registration form for each child you would like to register. Have questions? Please contact Tara Williams, tara.williams08@gmail.com or (850) 284-6118.
Youth Education and Youth Group
We are excited to for this year's youth program! We are going to continue with alternating between mornings and evenings, and we were sure to offer something relevant to every age group. Your youth leaders are Father Nick, David Cole, Tiffany Lawrie and Tara Williams.
In the morning middle-school students will meet upstairs in the parish house, and the high-school students will join the adults in the library with Father Nick. When we meet in the evenings we will share a meal together and the middle-school youth and the high-school youth will meet with Father Nick in his office.
We also encourage the youth to come and help at Loaves and Fishes every month, and we have come up with at least one big event each month.
Adult Sunday School
Mark, the shortest of all New Testament gospels is likely the first to have been written, yet it often tells of Jesus' ministry in more detail than either Matthew or Luke. It recounts what Jesus did in a vivid style, where one incident follows directly upon another. In this almost breathless narrative, Mark stresses Jesus' message about the kingdom of God now breaking into human life as good news and Jesus himself as the gospel of God. Jesus is the Son whom God has sent to rescue humanity by serving and by sacrificing his life. Join Father Nick in the Parish House Library on Sundays at 9:30 as he guides and initiates discussion on this important history of Jesus' life.
Episcopal 101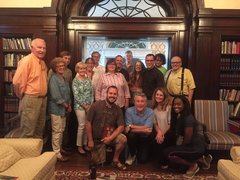 Episcopal 101 will be roughly following the book Your Faith Your Life: An Invitation to the Episcopal Church, and there will be a total of six classes. The class may appeal to you for a variety of reasons, and it will be open to anyone regardless of their membership status or the reason they would like to attend. One purpose of this class is to prepare people for confirmation or reception to the Episcopal Church. If you are serious about exploring a commitment to the Episcopal Church this is the perfect place to start. I will even give you a copy of the book to show that we are invested in your spiritual discernment in this Church. If you are curious about the Episcopal Church and are not sure if you want to make a commitment then this class is for you too. Though confirmation is an option it is by no means expected if you are not ready for that jump. If you are a life-long Episcopalian and want to touch up on your Church History, Liturgy or Church polity then this class is for you too. You are welcome to come to every class or pick a couple that interest you. However, if you are planning to be confirmed we ask that you plan on attending all of the classes. The books are available in the Church Office at no cost if you are seeking confirmation or for fifteen dollars ($15) if you have already been confirmed.

The schedule for the classes is as follows:
Week 1: Introduction and Scripture
Week 2: Church History
Week 3: Liturgy and Sacraments
Week 4: Church Organization and Polity
Week 5: Prayer
Week 6: Conclusion
Also, just a small note of preparing for the class. Don't. Let's dive into these subjects together with a blank slate. Once we cover the basics in the class I highly encourage you to read the corresponding chapters after class. After you read you may have questions on material in the book that we did not cover in class, which we can address in the beginning of the following class.

I am looking forward diving into this material with you!

Blessings,
Fr. Nick
The first Episcopal 101 class was held in the Spring of 2017. Many people attended , they valued the shared information and discussion. We will publish a notice as the next class forms.
Confirmation Class
Confirmation is when the Church prepares and welcomes new members into the Episcopal Church. Although, everyone is welcome to fully participate in worship and the life of the Church, members are able to run for vestry (our governing board), and vote in vestry elections. The Bishop of the Diocese of Southwest Virginia comes to our parish every 18 months to confirm new members, and confirmation classes are offered in the months prior to the Bishop's visit.